Gundrill Grinder
Gundrill Grinder
Features
Grinding machine for gundrills(KRM-034)
Adaptable drill size Φ3.0mm~Φ44.0mm
Saving Costs
Reduce the gundrill stocks by regrinding and prolonging the life of gundrills
You can save the cost & time for outsourcing of the regrinding.
Easy operation
Simple operation helps you to regrind during the NC machining
so continurous operating is available.
3 points jaw chuck
Drill can be fixed with one chuck that is ledd burden prolongsthe life of drills.
Ajustable inner & outer angle
The inner and outer angles of the carbide tip is adjustable as you like.
Spring type Cam
No need to keep pushing drills against the diamond wheel.
Adjustable Cam
Any angle is applicable for regrinding the drills.
Ball Bearing spindle
Smooth Spin & Less vibration and noise.
Saving the manpower, and prolonging the life of accessories.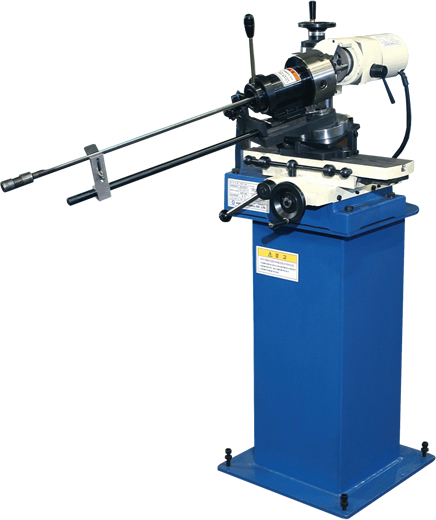 Specification
※Scroll You can see
| Remarks | Specification |
| --- | --- |
| Applicable drill sizes | φ3.00~φ44.00 |
| Operating Range | X : 200mm Y : 150mm Z : 150mm |
| Operating angle (vertical) | 20° |
| Operating angle (horizontal) | Left : 45° Right : 45° |
| Power Supply | 0.2KW / 2P |
| Floor Size | 990mm x 1055mm |
| Net Weight | 150kg |
| Chuck | 3 points fixed |